The 5 Critical Reasons Andromeda Will Be The LAST IT Company You'll Ever Need!
Let's speak frankly: we know that neither Andromeda (nor any other managed IT service) can be "just right" for everyone.  That said, our goal is to be the last IT company you'll ever need to partner up with.  That's a HUGE responsibility: for us to live up to and for you to feel comfortable with.  But with over 20 years of experience, we know what it takes to get there.  Below, we present five critical reasons why your search for a true IT partner is over:
1. Your IT company must "fit" your organization's "DNA"?
True, good Information Technology companies should be able to grow and adapt with both newer/improved technologies AND with your needs.  With over 20 years of experience serving happy, loyal client-partners, we know a little something about that.  But unless you're going to be satisfied with a "jack of all trades" for arguably the most important infrastructure of your organization, you need an IT company whose strengths and experience reasonably match your size and technology "leanings."
Does this sound like your organization?
Growing mid-size organization or municipality
Distributed—remote offices, telecommuters, mobile users, multi-site...
Primarily MS Windows based
20 to several hundred PCs or remote devices operating from your own Cloud and/or hardware server(s)
Possible future need of integration with other infrastructure systems: Telco, Cameras, Alarm systems, Access control...
Andromeda specializes in mid-sized organizations localized in the Chicago/Northeast IL/Northwest IN area.  We do have some smaller, single-office clients (usually contracting us to help them expand in short order), but our wheelhouse is with 20-200 PC, dedicated Windows server-based organizations.  Most have distributed/multi-site offices and/or integrated remote, telecommuter, or home office "nodes".  Many also now require other office systems that integrate with their information infrastructure such as fire/burglar alarms, building access control and/or security camera/CCTV surveillance.  We are intimately familiar with many types of organizations: manufacturing to medical; construction to legal; retail to municipality...
2. Your IT company must "fit" your organization's geographic reach?
Despite the greater capabilities and reliance upon remote monitoring and helpdesk services, you are going to need on-site service sooner or later.  It might be just setting up a new printer or a PC for a new employee, or it might be a major server overhaul, expansion or replacement.  Those are the situations where downtime for your organization could be catastrophic…and you certainly don't want to add hours and hours onto that just for your IT provider to arrive at your door.
Andromeda generally limits itself to clients within a reasonably accessible travel orbit of a couple hours. For us, this includes the greater Chicagoland area and suburbs plus Joliet/Naperville and greater Northeast Illinois area surrounding that axis plus Northwest Indiana.  We have technicians based in each of these two geographical orbits every day.  There are exceptions to "proximity rule"—especially for pure Cloud/remote help only services—but remember, you cannot "video-conference a server install!" Make sure that your IT techs can reliably get to your door when you need them most and in a timely fashion. We do!
3. Your IT company must operate on your "time clock"?
Do you need break/fix responses in minutes? hours? Or is "next day" OK?  What about emergencies? Does the IT company have the resources to tackle your big projects in days? weeks? months?
Andromeda is constantly innovating its own systems to minimize client down-time and interaction time.  Of course, we have online request forms for non-critical "later today or tomorrow is fine" issues.  Even here, though, reliable acknowledgement/scheduling is key.  You don't want to have to guess whether the online form went through, whether any human actually received and read it.  With us, first, you'll get an immediate Thank You response page so you know that your Request form was delivered properly, Secondly, our Response Coordinator will respond to your request within 1 hour during business hours (8am to 5pm, M-F) both to acknowledge the form receipt AND to estimate when a technician will get back to you and address the issue.
But for mission critical issues, we maintain a live, well-staffed, in-house HelpDesk team.  Your call will be handled directly by our HelpDesk Coordinator, not a general-purpose receptionist—certainly never an "answering service" that gets you just about nowhere!  We'll typically (over 80% of the time) be able to help you immediately.  Otherwise—depending on the extent of the issue—we'll schedule service for the same day...and ALWAYS, we will communicate that schedule to you within 80 minutes!
Emergencies: we have extended help desk hours from 7am-6pm, M-F.  Furthermore, We have immediate emergency notification/response: 27x7x365! Don't put in many off-time hours?  Your server does...so must we!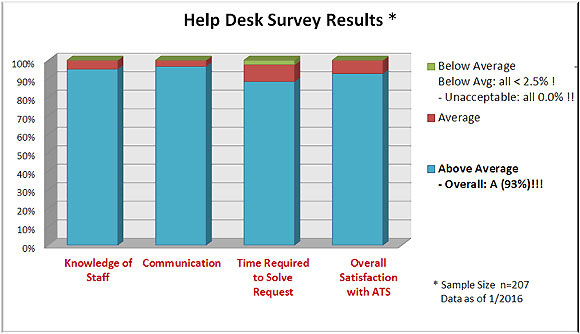 4. Talking to the wall—fluid communication is key to keeping your hair from falling out!
Is there anything more frustrating than constantly having to repeat yourself to get action?  Or worse, frequent misunderstandings that yield costly, time-consuming mistakes?
At Andromeda, we have a simple procedure for good communication that our parents taught us:
Listen first and listen well. Sure, we're in the same hurry you are to solve your issues—but not before you tell us what's on your mind.
Ask the right questions. You know there is an issue, but you're not a tech geek—yes, that's why we're here!  We need you to express the symptom(s), but we don't expect you to know what details are critical to addressing an issue.  A few pointed questions on our end will draw out the details we need.
Explain the process and options. Your dentist (hopefully) doesn't just ask you to open wide and then start drilling away, right?  You own the IT systems we maintain for you.  There may be more or less expensive, more or less permanent options to address larger issues.  We present them (with a minimum of tech-speak) and recommend what our experience—both with IT systems and eventually with YOU—tells us will likely serve you best.  But ultimately, it's your call!
5. Does each service call feel like you're hiring a brand new, un-vetted IT company?
"Any chance I can get Technician Tom again to follow up on latest server changes?"  "Sorry, he's out on other calls all week" or worse: "Sorry, he's no longer with the company!"
Sure, change is a part of life, and no one is immune.  But if the above scenario is more the rule than the exception, be assured that your service will be slower, frequently incomplete, or just plain wrong.  Even on a good day, it will be YOU that has to re-explain the latest circumstances and system setup (instead of the other way around).
Andromeda has several ways to combat these "life wasters":
First, all our clients—great and small—have a dedicated Account Manager (AM) who works for them.  This isn't just "nameplate" window-dressing.  Your AM knows you and your organization top to bottom—to the point of being proactive about what your needs will be in the coming year—not just with the latest tweak.
Secondly, our standing policy for new managed services is to perform a full IT audit, completely documenting your current setup (with all its, um, "eccentricities"). This document is religiously updated for even the slightest modifications we make to your system.  Should the situation arise that your "familiar" service tech is not available quickly enough for that next call, another qualified tech will be able to tell you your system status in detail before any help (or time clock!) begins.
Finally, we have instituted a premium "5-Star  service" option that not only dedicates an AM to your company but an entire team of: AM, field tech, and even HelpDesk tech.  On any given call, the choice is yours as to whether the situation warrants "your tech" or—for an unexceptional issue—the "next available" tech.
Are you getting the idea here?  The 5 points above are just the tip of the iceberg, however.  For further proof of Andromeda's solutions to these concerns and more, we invite you to send for—with no obligation, of course—our complete list of "15 Critical Points For Optimal IT Service" to determine whether we at Andromeda Technology Services could (and should!) be your last IT services company.